On this page you will find high quality resources you can use in your business that are either free to use or extremely low cost. All link to resources on this page will open in a new tab
For a great place to promote your links, be sure to join our sister site SecondSplash.com
Daily Give-Aways
The sites below may not give away marketing software on a regular basis, however, they do have daily give-aways of software you may use in other aspects of your life. Worth checking out.
https://www.giveawayoftheday.com/
https://www.bitsdujour.com/
https://sharewareonsale.com/
Free Funnel Builder, blog, course builder and auto responder

Save more than $300 a month with this all-in-one marketing platform.
Build funnels, do blog posts, send unlimited email a month to 2000 contacts and much more.
Free webcam and desktop recording software
OBS Studio is considdred the best open source (free) software for video recording and streaming. It is available for Windows, Mac and Linux
Click here to grab it at no cost.
Free Monthly Websites
Get a free money website every month. Now just in case you are a little worried about what you could possibly do with the free site and how you get to earn an income from it, the guys actually give you a full run down of how to install edit and have your website online within minutes so you have no worries about getting started.
Get your Free Monthly Money Site Here
Free Image Design
Designing catchy images for your projects, lead magnets, Facebook ads, etc used to involve going through a steep learning curve, mastering programs such as photoshop and gimp. Canva makes it easy to design the perfect image. There is very little to learn and you can use it for free. The link below is for a 30 day trial. Once the trial expires, you can continue using Canva as the free version will meets the demands of most people.
Click here to try Canva now




Website Hosting
Finding a quality web hosting provider in itself is an uphill battle. Finding one for pennies on the dollar with multiple benefits including one-click WordPress install is another story altogether. Starting at only 99 cents per month, you won't find a cheaper quality host anywhere online.
Click here to go to Hostinger
Hands-free Advertising for a year
This is really an extraordinary offer where your offer is mailed out to more than 35,000 members every day for a full year for less than $20 once-off. Here is what makes this offer so remarkable...
Let's assume things go horribly wrong and you only get 1 click per day. That is still 365 clicks. The cheapest solo you will get for 365 clicks would be $127.75, assuming you can get your solo at a rate of 35 cents a click. You'd have to be the worst marketer who ever lived if you not able to get your money's worth over and over again.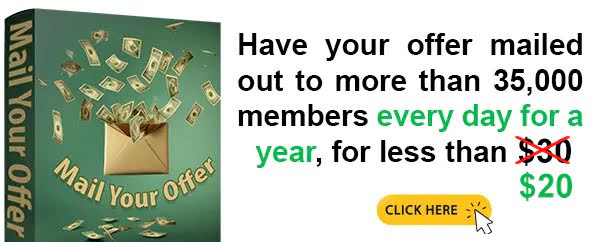 The Cheapest Solo Mail You Will Ever Send
Want the cheapest option to advertise to buyers and test your opt-in page at the same time. For under $10, you will not find a cheaper option. If this is your first time testing the waters with solo emails, you will love this. If you are already familiar with solo emails, you already see the value in this offer. Click the image below to order your solo email.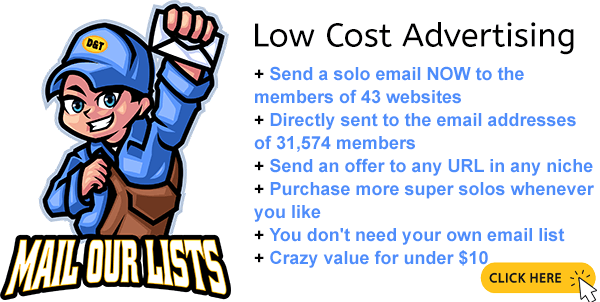 If you are still doing SEO the hard way, you may want to have a look at Spin Rewriter. All marketers have a clear GOAL in mind. They want to build websites with tons of traffic that converts and makes money. Marketers also know that they only need two things to succeed online.
The first thing is CONTENT. You need to provide good content for your visitors. You need to create VALUE. You also need visitors that will read your content and buy something from you. As many visitors as possible. And the best and cheapest way to get many visitors is SEO (Search Engine Optimization). As you know, content is the foundation of SEO as well. To get those "high quality, contextual" links, you need content. TONS of content that is published all over the web. With a link back to your website.
The second thing is KNOWLEDGE. Not just any knowledge. EXACT knowledge. You need to know what to do with all that content in order to get visitors. You need to know EXACTLY where to publish it.
The Easiest Solution - Well, the only thing you actually need is a good, nay, GREAT article spinner. I'm using the BRAND-NEW version of Spin Rewriter (the new version was just launched TODAY!). With its special ENL semantic spinning algorithm, it's able to create TONS of unique and perfectly readable content. With a single click. No work required.
Spin Rewriter developers also added the extra article generating algorithm in the newest version. From now on, Spin Rewriter will only generate the most unique articles out of the spinning syntax, which will make your content even more UNIQUE and Google proof. The guys at Spin Rewriter really went the extra mile for you. Every new user of Spin Rewriter also receives a 60-page 34-days to 7,000 Daily Visitors SEO Blueprint that reveals just what to do with the unlimited source of content to set up websites and improve Google rankings. Simple, EXACT, day-by-day instructions.
They offer a 5 day free trial.
Check out the video here and sign up for the trial.

XSplit Broadcaster, the best all-in-one streaming and recording application for content creation, powers the biggest events in gaming, esports and more. While you can certainly grab OBS Studio for free (see above under free resources) XSplit Broadcaster is undoubtedly the best commercial streaming & recording software out there, running rings around the software you can get for free.
If you want to grab a copy, use the code:
craighay
for a 10% discount.
Grab it here

Handsdown the best eBook creator software out there. Import content from the clipboard, a Word document or even a blog post or website address. With Sqribble it takes no time at all to create a really professional looking eBook and the one-time price makes for an even better investment.
Grab it here

BitsDuJour Deals have new deals every day on a wide range of specials from software to physical products. We have purchased many specials we use in our marketing (and a few that has nothing to do with marketing). Our advice: Opt-in to their newsletter and watch out for daily specials.
Get $10 of your first purchase when you
follow this link

Nowadays you see a new site pop up with realistic human text-to-voice services. A lot of these companies charge a monthly fee. As for the rest, well..., you just don't know with all these fly-by-night sites popping up everywhere. That is why we included Human Synthesis Studio for your text-to-speech needs.
Not only is it a reutable company, your investment is a low one-time cost only, but where it really blows the competition out of the water is that you also get to make use of a real human spokesperson. You need to see the demos on their site to see what we mean.
You can view the demos here.

Outsource anything from voice-overs to lead magnet creation and everything in between at fiverr.com. As the name implies, you can get anything done, starting at only $5.
Click here to go to fiverr.com
---
2016 - 2023 EasyCash4Ads.com -- All Rights Reserved